AMIGO'S IN NORTH HOLLYWOOD IS CLOSING, EVERYTHING MUST GO BY DECEMBER 21ST

Update December 5, 2017 I was told this morning that Amigo's Carpet and Flooring in North Hollywood is going out of business and all merchandise must be sold by December 21st for the closing of the warehouse store. Amigo's is a liquidator and gets deals on extra carpet and extra flooring bought by builders and surplus carpet and flooring from manufacturers. It is known for its giant inventory of carpet remnants and some of these remnants were from hotel and office building projects and are large enough for an entire house. There are other remnants just for a room or for a closet. Amigo's offers a service that turns remnants into area rugs by finishing the sides of the remnant to fit the dimensions needed.
The carpet remnants are priced as low at $2 to $6 per yard for smaller remnants, and from $4 to $12 per square yard for larger remnants. Take note that these prices are per square yard, and not per square foot.
Right now in the warehouse store there are 300 remnants that are room-sized and hundreds of remnants that are the size for a closet or bathroom.
Remember they can bind the remnants to turn them into area rugs.
Amigo's Flooring13406 Saticoy StreetNorth Hollywood, California
818-901-7411
www.AmigosCarpetFlooring.com
AMIGO'S FLOORING IN NORTH HOLLYWOOD NOW SERVES CONTRACTORS AND INSTALLERS WITH WHOLESALE PRICES
Update May 26, 2017 Amigo's Flooring in North Hollywood now serves contractors and installers with wholesale prices on carpet and flooring. Yes, it's still open to the public but operating hours have changed. Watch our Best Buys TV Show report below and be sure your contractor and installer shop at Amigo's for the best prices.
HOMEOWNERS IN CORONA GET THEIR SPECIAL LAMINATE FLOORING FROM AMIGO'S IN NORTH HOLLYWOOD
Update July 21, 2016 Some homeowners know exactly what they want and sometimes it means going out of their way to get it. In our TV show report below, see why a couple living in Corona bought their laminate flooring from Amigo's Flooring in North Hollywood. They loved the price, the service and the special laminate flooring that Amigo's imported from Europe.
Amigo's Flooring13406 Saticoy StreetNorth Hollywood, California
818-901-7411
www.AmigosCarpetFlooring.com
GLAMOUR FLOORING IN WOODLAND HILLS
February 27, 2016 Glamour Flooring in Woodland Hills offers quality flooring materials and complete installation services for Los Angeles County, Ventura County and Orange County. Glamour Flooring has a showroom that is just off the 101 Freeway and there is free parking. Glamour Flooring offers hardwood flooring, travertine, marble, laminate flooring, granite counters and tile and carpeting. You will not only find discounted prices but you will find Glamour Flooring has their own installation crews to give you fast, expert service. You can visit their showroom or call them for a free in-home visit and consultation where they will show you samples and give you your measurements and a price estimate.
Their showroom is set up so you can get an honest look at how their hardwood flooring will actually look when installed. There are giant samples of the hardwood flooring that cover a wall of the showroom so you don't have to make your decision looking at small samples. Because Glamour Flooring provides various flooring and trims and mouldings as well as full installation services this is a one-stop shop. Our Best Buys TV Show report is below. Remember to mention the Best Buys TV Show for special prices and discounts.

Glamour Flooring21030 Victory BoulevardWoodland Hills, California 91367
818-963-0878
www.GlamourFlooringLA.com
AMIGO'S FLOORING HAS A NEW WEBSITE
March 23, 2016 Amigo's Flooring, the discount of carpet, carpet remnants and hardwood and laminate flooring in North Hollywood has a new website. The new website is www.AmigosCarpetFlooring.com.
AMIGO'S FLOORING NOW HAS LAMINATES SUITABLE FOR BATHROOMS AND KITCHENS
Update July 23, 2015 Amigo's Flooring in North Hollywood now carries imported laminates from Europe that are suitable for use in wet areas including bathrooms and kitchens. This gives you a chance to have a whole new design look in your home. See our TV show report below. Of course the flooring is always discounted. The pattern on these laminates is also more realistic looking than what competitors have.

Amigo's Flooring13406 Saticoy StreetNorth Hollywood, California
818-901-7411
ADVANTAGE CARPET FLOORING OUTLET IN CHATSWORTH
Update June 10, 2015 Advantage Carpet Flooring Outlet in Chatsworth is conveniently located just off the 118 Freeway and it is also near the 101 Freeway. Homeowners from throughout the Los Angeles area come here for big savings direct from factories and carpet mills, and for the latest exclusive carpet and flooring designs. You will find discounted carpet direct from the mills that includes full rolls as well as large remnants that can be used to carpet several rooms in your home. There is also high-end hardwood flooring available including imported hardwood flooring that is only available at the top vendors in the industry. And along with the high-end hardwood you will find a large selection of budget hardwood flooring and tile.
One of the relatively new products available at Advantage Carpet Flooring Outlet is the luxury vinyl flooring that looks like hardwood. If you want the look of hardwood but you are concerned with heavy traffic and possible water damage then this luxury vinyl flooring is for you. There is also a large selection of brand name tile and carpet. Advantage Carpet Flooring Outlet is open 7 days a week. Our Best Buys TV Show report is below.
Advantage Carpet Flooring Outlet9216 De Soto AvenueChatsworth, California 91311
818-725-7382
www.advantagecarpetca.com
THE FLOOR CENTER IN BURBANK
Update September 30, 2014 The Floor Center in Burbank, California is a quality flooring company that provides excellent service, the best installations with its own experienced craftsmen, and competitive prices so that they can beat the big box stores on many popular items. The Floor Center carries hardwood and laminate flooring as well as tile, carpet and vinyl flooring. Several things set The Floor Center apart from other retailers including the big box stores such as their experienced craftsmen who will give you the best installation so that your flooring lasts a long time. The Floor Center also has professionals who will properly measure your home so that you don't buy unnecessary flooring. While many companies do accept returns of unused flooring material you could face hefty restocking fees so you you should always try to avoid purchasing unnecessary materials. You will find the most popular brands and styles and a very attentive staff that promises the best service. Our Best Buys TV Show report is below. They're open Monday through Saturday. They also offer window coverings including shutters.
The Floor Center2219 West Burbank BoulevardBurbank, California 91506
818-842-8171
www.burbankfloorcenter.com
AMIGO'S FLOORING IN NORTH HOLLYWOOD
Update March 17, 2014 Amigo's Flooring in North Hollywood is a true outlet and liquidator. Amigo's is best known for selling carpet remnants that are big enough to carpet an entire house, but now Amigo's Flooring is establishing itself as a leader in discounting hardwood and laminate flooring. The prices at Amigo's are up to 60% off what you will find at the big box stores and the big home improvement centers. Amigo's Flooring is a cash and carry store, but they can recommend installers in case you are not a do-it-yourself homeowner or landlord. Our Best Buys TV Show reports about the discounts on laminate flooring and hardwood flooring are below.

Amigo's Flooring13406 Saticoy StreetNorth Hollywood, California818-901-7411
Here's our report about the big discounts on hardwood flooring at Amigo's:
And here's our report on the discounts on laminate flooring at Amigo's:
3 DAY FLOORING & KITCHENS SERVES ALL OF SOUTHERN CALIFORNIA WITH FAST AND EXCELLENT FLOORING SERVICES
Update September 26, 2011 3 Day Flooring and Kitchens is not only a discounter for quality kitchen and bathroom makeovers but they also sell and install high quality flooring materials. And they have a wide selection of flooring with a special on laminates at $2.99 a square foot including the installation.
3 Day Flooring and Kitchens is licensed, bonded and insured serving all of Southern California from Santa Barbara to San Diego. And there are three convenient stores for you to see their quality cabinets, flooring and fixtures in Anaheim, Torrance and their main store in Granada Hills.
Call (800) 405-9697 or go to www.3dayflooring.com for information. The Granada Hills store is at 11141 Woodley Avenue. The Torrance store is at 3938 Sepulveda Boulevard and the Anaheim store is at 2424 West Ball Road in Suite Q. Watch our TV report below. Their California License Number is 938884.
Watch our TV reports and see more information about their services on our "Home Improvement / Kitchen" page.
FLOORING WAREHOUSE CENTER IS A TRUE OUTLET AND LIQUIDATOR
Update July 8, 2011 As soon as you drive up to the Flooring Warehouse Center in Gardena you will immediately know that you are at a true outlet -- because it looks like one. It is in a low cost warehouse district and you will immediately see that they are not spending a lot of money on fancy lighting or a storefront or fixtures -- and that means there is more value for you, the customer. It's true that here at the Flooring Warehouse Center what you see is what you get, because they have pallets of flooring right there and rolls of carpet right there and pallets of tile right there for you to pick and have delivered.
Flooring Warehouse Center only sells high end brands of carpet and hard wood and laminate flooring and tiles but everything is deeply discounted to below regular wholesale prices because they only buy liquidations and closeouts from factories -- and inventory from other stores that are going out of business. This is why you can save up to 50% below regular wholesale prices that other businesses and contractors might pay. Flooring Warehouse Center alse gets "seconds" and merchandise with minor flaws from the factories and mills and these seconds might include carpet that has a change in the color or an out of place line of fabric in a pattern. But as we like to say when we examine seconds -- if the flaw is not a problem for you, then you will save a lot of money.
Flooring Warehouse Center is open to the public but it is already well known among realtors who will buy new carpet or flooring here to help sell a high priced home, and contractors will shop here to serve their retail customers.
Flooring Warehouse Center is also known as the Carpet Warehouse Center but these days they have just as much flooring product as carpet. The store is at 18014 South Vermont Avenue, Gardena. The entrance to the store is actually on 182nd Street and South Vermont Avenue.
Call (310) 329-3612 or go to www.FlooringWarehouseCenter.com for information. Expert installation by licensed, bonded and insured contractors is available. Our TV report is below.
WESTSIDE TILE AND STONE IN CANOGA PARK
Update September 26, 2011 At Westside Tile and Stone in Canoga Park you will find savvy consumers and decorators from Beverly Hills, Pacific Palisades and Malibu shopping. And the reasons are evident: Westside Tile and Stone has a tremendous selection of elegant tile including the new, trendy glass tile that can be used on walls, around swimming pools, even on floors. The designs are magnificent. Westside Tile and Stone features the top manufacturers and designers of tile. The store is staffed with expert designers and installers to make your shopping and purchasing convenient and efficient. They even have a bargain bin. But the main reason for coming here is the elegance you can see and feel. Westside Tile & Stone is at 7631 Canoga Avenue, Canoga Park.
Call them at (818) 704-9222 or go to www.westsidetile.com for information. Remember, when you shop here you are shopping with experts with decades of experience and decades of contacts for getting you the best available. Watch our TV reports on our "Home Improvement / Tile" page.

DONE RIGHT DISCOUNT FLOORING IN TORRANCE
What you will like about Done Right Discount Flooring is that they live up to their name. Yes, it's done right. This is a family owned and operated business with a great reputation in the Torrance area. Done Right Discount Flooring is not only popular with consumers, but it is also popular with contractors and installers who get an extra discount here. Yes, consumers will also find low prices, but if you send your contractor or installer to pick up your flooring supplies there will be an extra discount. Done Right Discount Flooring also does installation work and gives free estimates. Stop in the store for its carpet, tile, wood flooring and wall tiles including glass tiles.
Done Right Discount Flooring is at 1645 Sepulveda Boulevard in Torrance. Call them at (310) 539-9856. And watch the video below.
S&S HARDWOOD FLOORS AND SUPPLIES
S&S Hardwood Floors and Supplies has three locations in the Los Angeles area including Gardena, Los Angeles and Canoga Park in the San Fernando Valley. This is a factory direct discounter of hardwood floors, laminates, adhesives, exotic woods, tools and it offers one stop shopping for the professional, contractors, developers and do-it-yourselfers.
S&S Hardwood Floors and Supplies has a staff that offers more than a quarter century of experience and knowledge of wood flooring and installation. Delivery service is available and there is a giant inventory always on hand that makes it possible for you to pick up your materials the same day you order them. S&S Hardwood Floors and Supplies has a high quality product at half the price of the national brands. Call them at (888) 797-WOOD or go to their web site at www.ssfloors.com for information.
The three showrooms are located at:
17010 South Vermont Avenue, Gardena (310) 323-4222
5205 West Pico Boulevard, Los Angeles (323) 936-2444
7634 Deering Avenue, Canoga Park (818) 347-4600
Watch the video below to find our more about this factory direct discounter.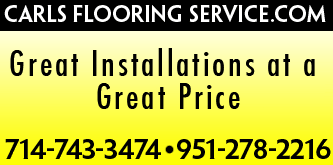 Carlsflooringservice.com has been a family owned business for more than 32 years and they sell and install everything from carpeting to hardwood floors, great looking tile entries, baths and kitchens to long lasting laminate flooring. They also install staircases and showers, along with countertops in a wide range of materials such as granite, travertine, tile, glass, metal in various combinations.
Want a perfect garage floor let Carlsflooringservice.com epoxy it using only Solids Industrial Epoxy.

Check their web Site at www.CarlsFlooringService.com or call them at 714-743-3474 or 951-278-2216 for service throughout Southern California.